I have an amazing story to share.
Mochi, a cavalier, I co-bred with Alisha Lockleer with LockeStar Cavaliers, saved a life today.
Here is the story in his owner, Esther's, words:
"Alisha, I spoke to you how Mochi never barks. The boys and I were eating breakfast and I was on my phone typing. Mochi started barking and barking loud and it startled me hearing him bark. As my eyes went up I noticed my son was choking and couldn't breathe. Poor baby didn't even make a single noise as he couldn't. I ran around to him and we got the food out of his throat. I am so grateful for Mochi being alert to my babies and amazed that he even knew something was wrong with no noise from my son!! So he got a special treat today."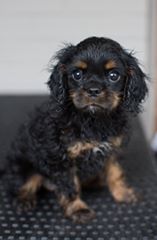 Mochi is sired by Mary Beth Squirrell's boy Loki (Embee's Mischief Managed) and is out of our girl Arrow.
Esther, Alisha, and I are so proud of Mochi!!! So is his brother Sirius!!
  These little dogs are so incredible and know so much more than we think they do!