Kazuri is thrilled to announce that we today confirmed that Arrow is pregnant via ultrasound.
We approached the amazing Marybeth from Embee Cavaliers in Ontario Canada about using her beautiful boy "Loki" (CH Embee's Mischief Managed) as a match for Arrow.  Not only is Loki beautiful and has a wonderful disposition, but has passed his health testing (including the same kind of MRI Arrow had done) with flying colors.
We have been lucky enough to see some of the puppies he has already produced and they are gorgeous.  To say we are excited about these potential puppies is an understatement.
The litter is due at the end of June, so stay tuned for the announcement sometime around then.   While Arrow and Loki are both black and tan, they carry the white gene and so could produce any of the 4 cavalier colors.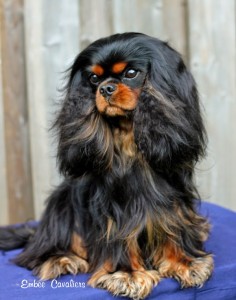 (Loki)