We had a brilliant weekend at Woofstock this weekend. Emmy (Kazuri's Dreaming of an Emmy) garnered 5 points towards her CH title including a lovely 4point major win under Judge David R. Miller. We are thankful for Mc Linda C. Moore for also recognizing her. She had not been in the ring since the national last October, so we were tickled at how well she did.
Not to be outdone, our little 13 inch Vixen (Hailstorm's Feeling a little Foxy at Kazuri) won Best Opposite 2 days under judges Ms Linda C. Moore and Mrs. Patricia V.Trotter. The big excitement was on Saturday when she won Best of Breed over several lovely specials for a 5 point major under judge Mr David R. Miller!

Lastly, our puppy boy, River, (Kazuri's River of Dreams) went reserve 3/4 days, but today delighted us with his second winners dog/best of winners win garnering his second 3 point major under judge Mrs. Patricia V. Trotter. At 8 months old, and this being his second dog show, we are proud that his is half way to his CH title.
I am so thankful to co-owners and co-breeders Mike Kurtzner and Karen Kurtzner who so wonderfully presented our dogs this weekend.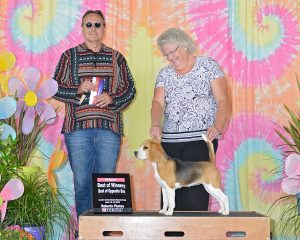 Emmy with Karen