I get asked this question all the time – aren't breeders all the same? How can I tell the difference between an ethical breeder and a backyard breeder or a puppy mill?
Well, the answer is simple. No. They are not all the same.
And more than that, just because it is "pure bred" does not mean it was "well bred".
For this blogpost, I want to define that an ethical/preservation breeder is someone who breeds to improve the breed as their primary focus. They are not in it for the money and having puppies is not their income source. A backyard breeder, for this blog post, is defined as someone who has a dog that has "papers" and wants to have a litter to have fun or the experience. They generally don't do any health testing. They sometimes will purchase a male and female and just breed them together. A puppy mill, for this blog post, is a breeder who breeds solely to make money. They are not always the horrible images we see on TV (although there are extreme puppy mills that do treat their dogs like that), but mostly they cut as many corners and costs to maximize profits. The health and safety are not really a priority and so the dogs have limited routine vet checks and don't usually have the recommended health tests. Some of these puppy mills have beautiful websites and photos and so as a buyer you have to really be vigilant to make sure that is not where you are buying your puppy from.
I also want to make something else clear – AKC is a pedigree registry. It is a place that records the history of your dog's parentage so they can prove that it is (or isn't) a pure bred dog. Each breed of dog has a written standard of what they should look like. It does not monitor how close they are to the standard and so it is up to you as a buyer to check that your breeder is adhering to what they need to, to keep to the standard.
Many ethical breeders will show their dogs in conformation shows. This is not just for prestige – although the ribbons and awards are certainly fun. Most of the time it is to make sure that the dogs they are producing are adhering to the standard. When you get together with other breeders, you can compare your breeding stock with other breeders and see if you are "on track". You also get feedback from impartial judges. It helps many breeders try not to have "mommy goggles" as lets be honest – we all think our dogs are the most beautiful in the world.
What separates ethical/preservation breeders from backyard breeders or puppy mills is their commitment to the breed itself. By showing their dogs, a breeder shows their commitment to keeping their dogs to the standard. How can you tell if your breeder is committed? Ask your breeder what clubs they belong to. Ask them if they do any sports with their dogs such as tracking/scent work or barn hunting or obedience or even good canine citizen awards. Even if they don't show their dogs (their is no reason not to) they should be committed to being part of the local clubs – this requires them to adhere to ethical standards of breeding, and accountability.
If a breeder talks about their dogs "champion bloodlines", they are probably trying to trick you into thinking they show their dogs, or that they adhere to the standard in their breeding. However, this "champion" could be far back in their pedigree and pretty meaningless.
Health testing also sets ethical/preservation breeders apart from those just in it to make money. AKC has a list for each breed, of the health tests recommended by each parent club. The images below are the beagle and CKCS recommended health tests.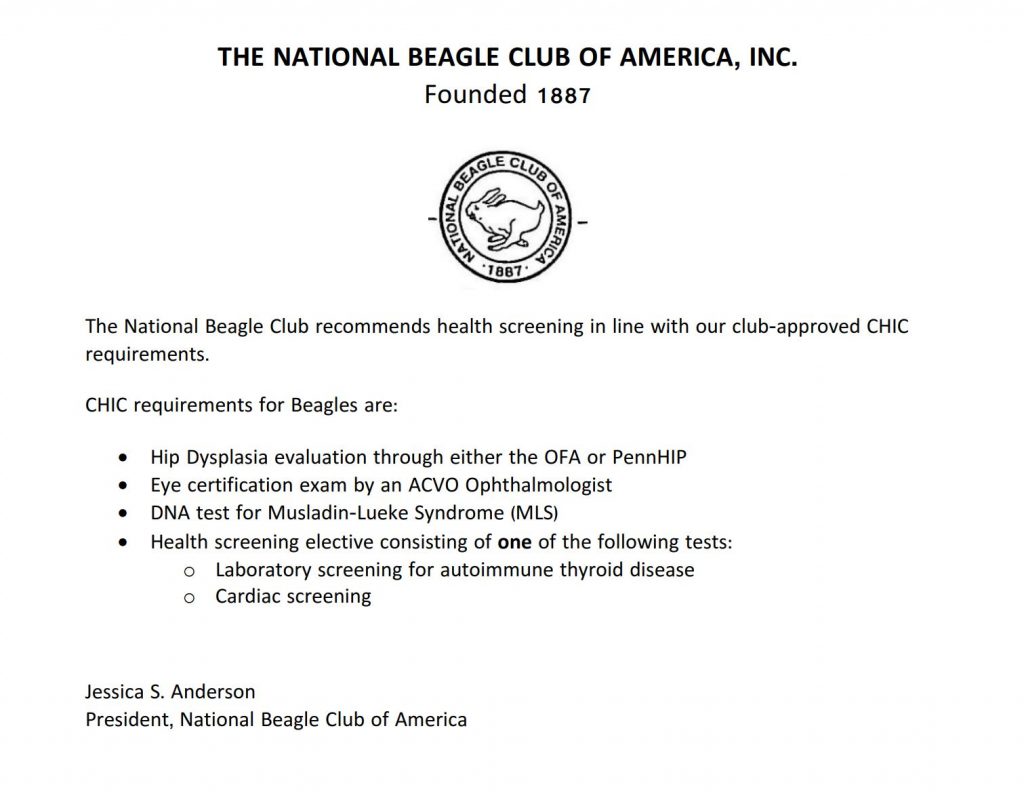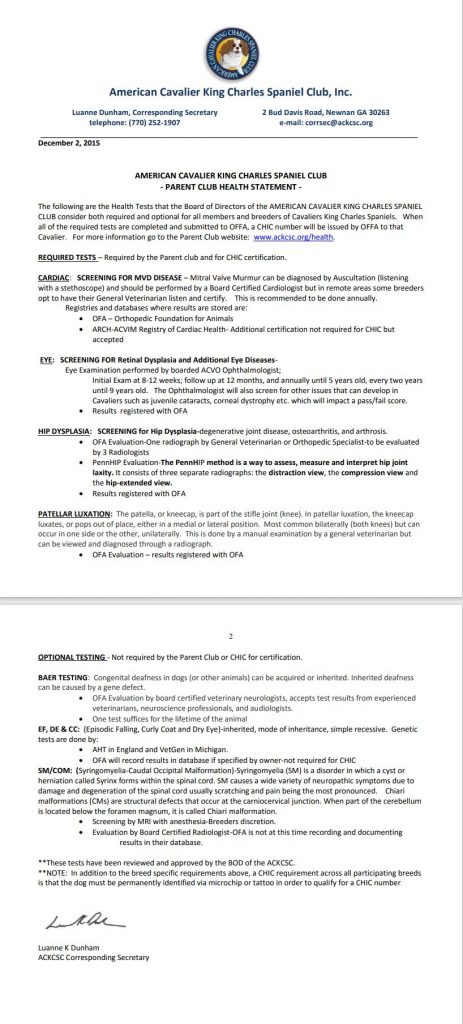 Ethical breeders will have these tests and have proof that they are done. There is a registry for health tests online called www.ofa.org – here you can look up any dog by it's registered name and verify information given to you by the breeder.
However, I will note that it costs money to register the results online so many breeders do the tests but don't put the results online, so make sure you ask if you don't see them.
For Hearts, check that the check was done by a cardiologist, not just a vet practitioner. Breeders that are not taking their dogs to a cardiologist are not adhering to the standard and are cutting a very important step but pretending they aren't.
Cavalier hearts should be checked every year. Many backyard breeders and puppy mills will do them once (if at all). So, check the dates and ask questions if they are not current.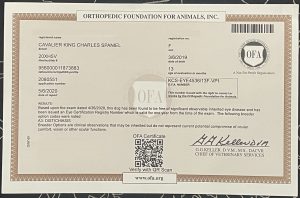 This is an OFA eye check – this girl has extra eyelashes (distichiasis), but her eyes have no eye disease. It's important to read results thoroughly and feel free to ask or google anything you aren't sure about.
The final way to tell an ethical/preservation breeder from a backyard breeder or a puppy mill is by looking at if they are working towards making their breeding program and the breed better by their breedings, or if they are just pumping out puppies.
An ethical/preservation breeder will search out the best match for their dams (moms). Most of the time, it will not be in their back yard. They are not afraid to import semen from overseas, across the US or from their network of breeder friends. A backyard breeder or puppy mill want to save as much money as possible to maximize profits and so use the same stud and dam for every single litter. If they never use any other studs, it should be a red flag.
Every puppy will be cute. So, don't base your decisions on a cute puppy. Ask questions and be prepared to walk away if you are not liking what you hear. You deserve to get a puppy that has had the best start in life.