With every birth I learn something new. Usually I start taking the dam's temperature about 4/5 days before she is due to watch for a significant drop which tells me she is 24hours from starting labor. This happened on Thursday morning (the 13th Feb). I got up every 2 hours through the night to check on her for 4 nights – she started labor on Sunday night around 11:30, and puppies started arriving around 10am on Monday morning. Someone once told me "they don't read the rulebook" – and that was certainly true for this. But I am glad she was able to have them safe and sound at home rather than go in for the planned C-section which is what we would have done Monday afternoon.
Baby #1 was born at 9:58 – a boy – 5.1oz.
Baby #2 was a girl, born at 11:12 – 6.3oz.
Baby #3 was a boy born at 12:03 and he was 6.5oz.
Baby #4 was another boy born at 12:49 and 5.7oz.
Baby #5 was 6.6oz and was a girl born at 2:23.
Baby #6 was born at 3.52 – another girl 6.7oz.
Our final baby was a boy born at 4:14 weighing 7.6oz.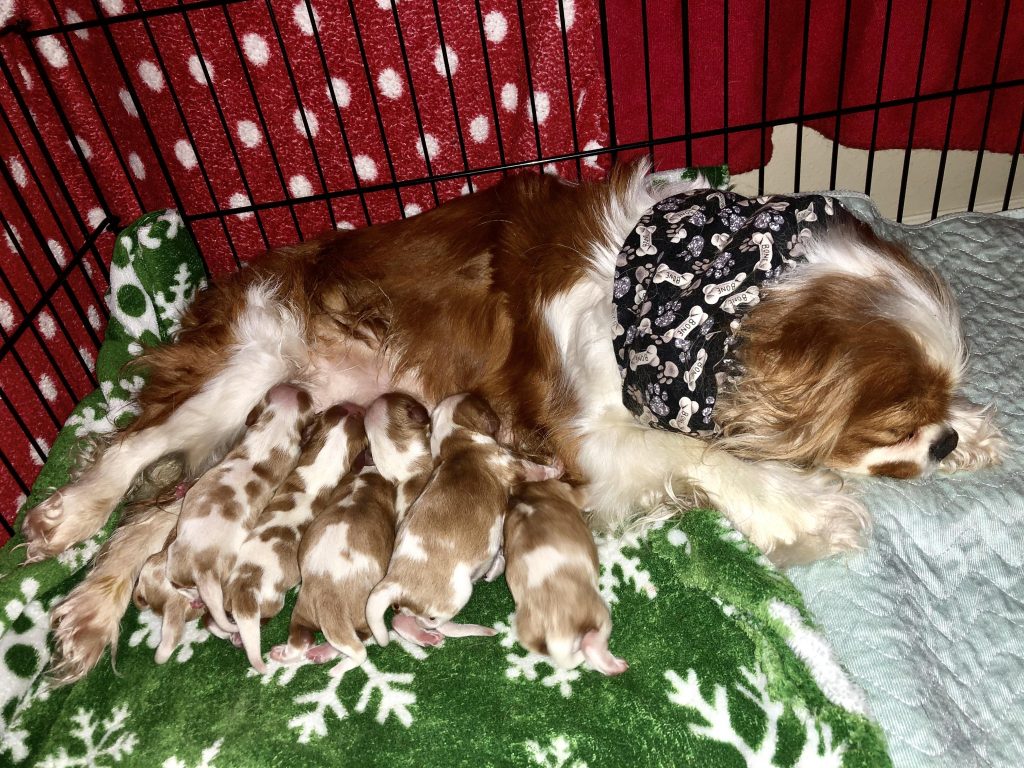 Mom and babies are all vigorous and doing well. I am not sure who is available at this stage and will start contacting families as soon as I do 🙂 Thank you.
EDIT: On Wednesday night, one of the little boys started to crash and we couldn't save him and he gained his angel wings. This is the heartbreaking side of breeding. One that cant be avoided, but death is part of life. He was loved and treasured and cuddled right till the end. <3